Hello Everyone and Welcome to a VERY Magical Celebration!!
If your here from

~*~*~Candace's Blog~*~*~

, then your in the right place.
If not, you may wanna start at the beginning so you dont miss a BEAT!
(complete line up located at bottom of post)
This is such a FUN and Magical HOP!
We may be Celebrating Trixie's Birthday a little bit late, but magical creations take time!
So DEAR, SWEET Trixie is a girl of my own heart, she LOVES DISNEY...(who doesnt, right?) She has ALOT of favorites and I think she narrowed it down really well...
I chose to make her an Adorable Minnie Mouse Ears hat MINI Slider Card attached to a Fun and Whimsical Candy Tube Holder!
I Absolutely LOVE how the Mouse ears turned out!!

I Lacquered the ears so they would like like the plastic ones they sell at the theme parks & I was going to FLOCK the hat to make it look like 'felt', but I didn't have BLACK flocking! Grrrrrr!!
What is a girl to do? I opted to do the next best thing, and HAND STITCHED to Personalize her own Minnie Mouse Ears!
here is a SIDE view of the candy tube holder
Here is the Slider MINI hat.... pull on the ears....!!
Hard to tell..but the ears are lacquered to give it a nice PLASTIC look!
Then I stamped my Jaded Blossom Sentiment to it!
added some JB stamps and Dies to the top of the tubes to tie in the theme a bit more!
close up of the box base, using a Mickey Glove and the JB stamps and Dies!
They are sooo Awesome!
So easy and simply to do!!
Finish it off by adding some RED Ribbon with White Polka Dots, just like Minnie!! Stamp a sentiment to your insert card and secure the closure with a mini velcro dot!!
Next, create your DOUBLE candy Tube holder, and just go to town with the

Black

,

White

,

Red

&

Yellow

Color Theme!
I know CUTE right? and you want to MAKE it, right? well you CAN!
~*~*~*Magical Recipe for Success!~*~*~*
Mouse Ears MINI slider card & GLOVES (*FREE TODAY ONLY)
Double Candy Tube (SVG CUTTING FILES)
Candy Tubes (JADED BLOSSOM)
Candy Charms & Dies (JADED BLOSSOM)
Stamps (JADED BLOSSOM)
~*~*~*~*~
Blog Hop Prizes
~*~*~*~*~
$15 Jaded Blossom Gift Certificate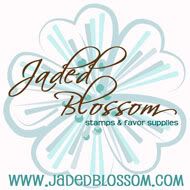 $15 SVG Cutting Files Gift Certificate
Some
FREEBIE SVG Cutting Files
are available as you Hop Along, on this
MAGICAL HOP
,
TODAY ONLY
!
So make sure you Hop along and Comment through all the Blogs for a better Chance of Winning the Magical Prizes and Getting those Awesome Freebie Files.
Next up on the Hop is my wonderful friend,
~*~*~
Jamie
~*~*~
!
Complete
Hop Line Up
Michelle
Candace
Ann
Jamie
Kate
Crystal
Jenny
Jaymie
Trixie