Good Morning and Welcome to the Wonderful World of Wizards Blog Hop.
We have an Awesome line up for you today.
Now if your here from
(Candace)
then your in the right place, if not you may wanna start at the beginning because you seriously don't want to miss a single creation today.
Now its no SECRET that Im a Freaking Harry Potter Fan....
I adore all the movies and have read the books several times.
We have the movies on regular DVD and Blu-ray ...we are Potter Heads here!
So, for my creation today, I made a very signature item from the Harry Potter Movies.....The Golden Snitch.
Anyone that knows anything, knows that the Golden Snitch is prominent in the movies and while playing Quidditch!
Now, I didnt design this snitch. I actually found a fan art printable for this. I simply tweeked it out and added my own wings and actually made it into a treat box container. The original file was just a paper ball on a stand. I created additional layers for the file and the opening for it to become a 'box'.
I attached some fishing line to the top so it looks like its flying in the air, just like in the movie!
This Golden Snitch Candy Holder is FREE today ONLY ---
(see below for the link to Snatch up the Snitch!)
Here is a close up of the Die, stamp and ribbon used.....
The Die is from Jaded Blossom, as well as the awesome Stamp sentiment
Here is the opened Snitch, filled with candy Wizard treats.
Here are the links to all things used to make this totally awesome Wizard Party Centerpiece!
Wizard Stamps (My Favorite Wizard & Wizard Candies) - www.JadedBlossom.com
Now for more Information you NEED TO KNOW!!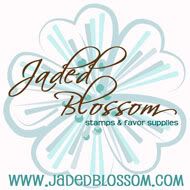 $15 SVG Cutting Files Gift Certificate
1 Spool of Twine Sponsored by
Trendy Twine
And Some

FREEBIE SVG Cutting Files

as you Hop Along, that will be available for

24 Hrs Only!

So make sure you Hop along and Comment through all the Blogs for a better Chance of Winning and Getting those Freebie Files.
Next up on the Hop is
(
Michelle
)
Hop Line Up
Jaded Blossom
Candace
Ann
Michelle
Gwen
Jamie
Kate
Ashley
Stefani
Jenny
Jaymie
Crystal
Trixie